This year's workshop will include an overview of New Hampshire homeschooling law, followed by two discussion panels. This will be a great introduction for those who are new to homeschooling and eager to learn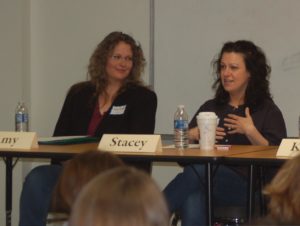 the basics. Veteran homeschoolers will also enjoy dialog with workshop panelists, learning about different methods and materials, and exploring the details of homeschooling through high school. Workshops are a good opportunity to meet with local Coalition representatives and connect with other homeschoolers.
The panel discussions will run simultaneously, so you can choose the panel most appropriate for your family:
The "Homeschooling Sampler" panel will consist of experienced homeschoolers who will describe how homeschooling works for their families. You will hear about various types of curriculum, different teaching and learning styles, ways to keep students motivated, and have a chance to ask your own questions.
The "Homeschooling High School" panel features home-educated students and parents discussing high school, college, and beyond. They will discuss covering high school work at home, in group classes, online, and at community college, as well as preparing transcripts and setting goals.
Registration is at 9:00 AM, and the workshop runs from 9:30 AM – 12:00 PM. Admission is $10. Call 603-539-3551 for questions or more info.
Pre-registration is now closed, but you are welcome to pay at the door on Saturday.
Save
Save
Save
Save