Once you have decided to homeschool, how do you begin? There are generally three steps involved:
1. Gathering information
2. Understanding and complying with the law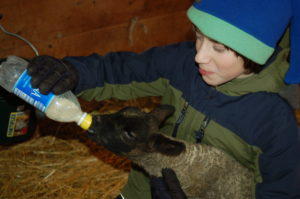 3. Developing a plan
Gathering Information
Perhaps the most important thing to realize when it comes to homeschooling is this: you are not on your own! There are many other homeschoolers in New Hampshire who are willing and available to help you.
· Homeschooling support groups are a good place to ask questions and receive support. Other homeschoolers remember what it was like when they were just getting started and are happy to help others who want to homeschool.
· Your local NHHC representative is also available to respond to any questions you may have about homeschooling. Many coalition volunteers have been homeschooling for a decade or longer.
· Your local library is another good place to start. Most librarians are comfortable with the idea of homeschooling and are very helpful when it comes to finding resources and making contact with other homeschoolers.
· The New Hampshire Home Education Guidebook and other books on homeschooling ("classics" such as The Well-trained Mind: a guide to classical education at home by Jesse Wise and Susan Wise Bauer, A Charlotte Mason Companion by Karen Adreola, The Unschooling Handbook by Mary Griffith, and The Teenage Liberation Handbook: How to Quit School and Get a Real Life by Grace Llewellyn) offer good advice and valuable information. These and other books on homeschooling are usually available at your local library or through interlibrary loan.
Understanding and Complying with the Law
As a homeschooler, you need to become familiar with the legal requirements for homeschooling in New Hampshire so that you can understand your rights and responsibilities. Home education in New Hampshire is governed by RSA 193-A, which went into effect on July 1, 1991, and by several subsequent changes to the law. Under this law, parents or legal guardians who want to homeschool their child(ren) are required to:
1. Notify a participating agency (in most cases, the local school superintendent or a participating private school) of their intent to homeschool. For your convenience, we have posted sample notification letters: a basic letter and one with a space for the participating agency to sign. These are simply suggestions; feel free to write your own.
2. Keep a portfolio of the homeschooled child's work and a list of reading materials. Note that the portfolio is the property of the parents; the superintendent cannot require that you submit it to the district for review.
3. Have an annual evaluation demonstrating educational progress commensurate with the child's age and ability. Most families choose either a portfolio evaluation (done by a certified teacher – see our list of Evaluators) or standardized testing (see our list of testing services). The results of the evaluation, typically no more than one or two pages, must be kept by the homeschooling family and shown to officials if a question comes up about the home education program.
For more information, please refer to our separate page on the legal requirements for homeschooling. There we have posted a form for evaluators, and sample cover letters to send with a portfolio evaluation or to send with test results, if you choose to submit them to your participating agency. Please feel free to use these templates or create your own. Note that an evaluation is not considered complete unless it has a parent's signature. If you feel your child's evaluation is not accurate, do not sign it – seek another evaluation. The New Hampshire Homeschooling Coalition strongly urges all parents or legal guardians to read and thoroughly understand the text of the home education law (RSA 193-A) and administrative rules (Ed 315) before initiating contact with their participating agency. At this time the rules, Ed 315, have not been updated to reflect recent changes in the law. Once again, please refer to our separate page on the legal requirements for homeschooling for up-to-date information.
Developing a Plan
There are as many ways to homeschool as there are homeschooling families. How do you decide what approach and materials will work best for you? Your answer to this question will depend on your reasons for homeschooling, your long- and short-term goals, your child's learning style, your own teaching preferences, and your family budget.
By asking other homeschoolers how they homeschool and by doing some research on your own, you will be able to develop a plan that is right for your family.
Save
Save